ENROLLMENT FOR 2023-2024 SCHOOL YEAR
Begins February 1st 2023
MEEC 50 Year Celebration!
Come view the fun!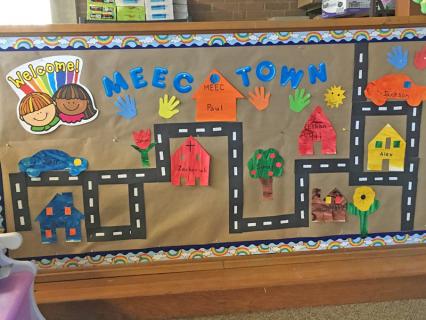 Middleburg Early Education Center was founded in 1973 as an outreach mission of Bethel Lutheran Church. With the continuing support of the Bethel congregation, MEEC has thrived through the years. Quality preschool programming is provided for children with special needs and typically developing children in classes that feature full inclusion. Children with different abilities and disabilities learn side-by-side, building understanding, empathy and compassion as they learn. Part of our mission is to keep tuition affordable for all families. MEEC employs a highly qualified and experienced staff to provide the programming and individualized therapies required for our children. Program costs are primarily staff salaries, which are not competitive. It is through their dedication and commitment that our school has grown and continues to provide high quality preschool education. Parents pay tuition that covers a portion of actual expenses. Grants, donations and fundraisers make up the difference.
MEEC was granted non-profit status in 1987, and is classified as a 501(c)(3). All donations are tax deductible and benefit the children at the Center. We conduct many fundraisers throughout the year to help with our expenses. Grants and generous donations help provide the quality programming that all children should have.
Special needs children are referred to MEEC with a variety of diagnoses, including autism spectrum disorder, Down syndrome, apraxia, speech and language delays, attention deficit disorder and learning disabilities. Middleburg Early Education Center is a provider of the Autism Scholarship Program through the Ohio Department of Education. We also accept funding from the Board of Developmental Disabilities through the Family Supports Program.
Inclusion classes allow children with special needs to learn from peer role models. This gives children the opportunity to practice skills in realistic settings. Social skills and communication are areas all children need to learn and practice; being able to use these emerging skills in a safe, supportive environment gives children the tools they need to be successful students throughout their school careers and eventually, successful adults. Children who serve as role models develop positive self esteem, knowing they are helping a friend. They are able to be leaders, and feel good about being able to help. These experiences can lead to adults who have little difficulty understanding others who are differently-abled, and appreciating the differences between people. Children learn at an early age the value of each individual, and the importance of helping others. When inclusion is done well, everyone benefits and grows.